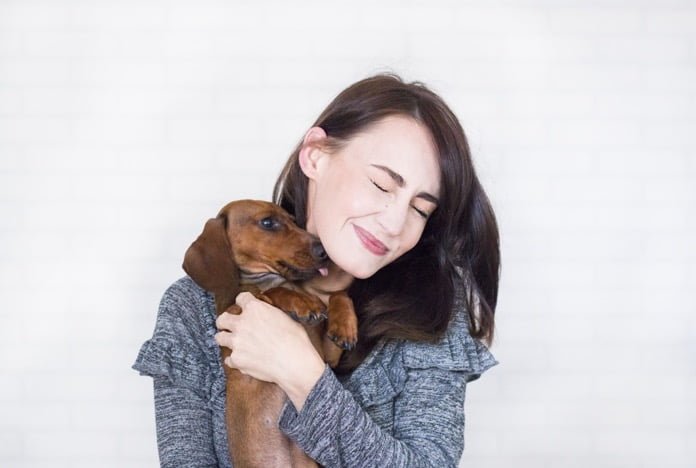 Our Reader Score
[Total: 0 Average: 0]
A recent study published in the Journal of Mental Health examined the use of dogs to reduce stress and increase emotional well-being in university students.
College is a period of transition for many students. They have to deal with being away from home, coping with a new environment, and often leaving family and pets behind. While the freedom from parental monitoring can be exciting, it is also a time of increased obligations and time constraints, which can lead to stress and anxiety in students. This period has been described by researchers as the most difficult period a student experiences in their lifetime.
There have been increasingly more students pursuing post-secondary education with compromised mental health. Elevated levels of stress are leading to students underperforming and also experiencing academic burnout. Universities and colleges have academic success centres, which ensure that students struggling academically have support available. However, emotional and mental well-being is something the students need to self-regulate.
Recent developments on campuses have been to introduce therapy dogs to reduce stress in students. These animal visitation programs bring certified therapy dogs and their handlers to help students by reducing stress through their interactions. This research article was published in the Journal of Mental Health in December 2017.
Therapy dogs have been helpful for elderly patients
Therapy using dogs has been found to be helpful for health-impaired elderly patients, however, now they are used in a number of settings such as workplaces and schools. The study wanted to determine how efficient dogs were in reducing stress in university students, and determine the duration of support the students needed using the program.
They gathered data from the Building Academic Retention through K9s program (B.A.R.K) established at the University of British Columbia in Canada. They conducted the study across three semesters (Fall 2014, Winter 2015 and Fall 2015) and a brief survey gathered gender, year of study, and their time of arrival and departure from the lab. A total of 1960 undergraduates participated in the study. More than half of the participants were female.  The researchers did not consider ethnicity because the participants entered and exited the lab quickly.
For the study, the students could drop in at the B.A.R.K program weekly and spend time with volunteer dog handlers and the therapy dogs. Sessions were not mandatory and did not require enrolment. At any given time, 15-17 dogs were available. During the session, handlers answered questions about their dogs, respond to student questions and engaged the students regarding their campus experiences, stress levels and general well being. Sessions ranged to 90 minutes and students had the freedom to decide the duration of a session.
Therapy dogs reduced stress significantly
The study showed a lot of promise, with an interesting result. Canine therapy intervention did reduce stress to a significant degree. The length of time spent by the participants with the therapy dogs had small effects on their well-being. Gender and initial stress levels were not predictors of the time students spent with their canine pals.
Females have higher stress levels
Since participants were allowed to determine the time they wanted to spend in sessions with the therapy dogs and volunteers, on an average, it was seen that participants liked to have a 35-minute session. This program format offered a greater autonomy and flexibility compared to other programs available for mental wellness on campus which were more structured and formal. The finding that female participants have higher stress levels than their male counterparts is an important finding of the research.
The limitations of the study included the fact that there was no control group and further research could also examine if direct interaction with the dogs had a different effect than indirect interactions. Historically, the practice at universities has been to provide academic support to struggling students. The management of secondary educational institutions is realising the need to include emotional and social support for optimal performance and learning conditions. Using therapy dogs is a positive step towards reducing stress in students.
Written by Sonia Leslie Fernandez, Medical News Writer
Reference: Binfet, J. T., Passmore, H. A., Cebry, A., Struik, K., & McKay, C. (2018). Reducing university students' stress through a drop-in canine-therapy program. Journal of Mental Health, 27(3), 197-204.