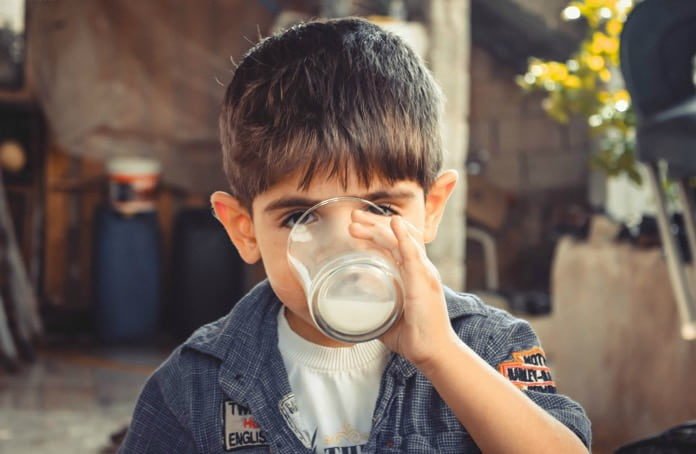 Our Reader Score
[Total: 0 Average: 0]
A recent study examined different kids' drinks commonly consumed by American children, and the nutritional values associated with these drinks.
Eating healthy foods and drinks is especially important for the health of children. Currently, there are conflicting data on whether milk and juice should be promoted, as some studies state they may be involved in excessive weight gain. A study recently published in Nutrition Journal used existing dietary data to determine patterns of beverage consumption and nutrition in children.
Researchers collected dietary information from 2009-2010, 2011-2012 and 2013-2014 National Health and Nutrition Examination Surveys. They asked children between the ages 4 to 19 to recall their dietary intake from the previous 24 hours, with adult help if they were between 4-5 years old. The researchers grouped beverage consumption into, milk, juice, milk and juice and other beverages. The researchers wanted to determine the nutritional components associated with each group, as well as the Healthy Eating Index scores, which measure the quality of the diet.
Researchers found 63.2% of children drank other caloric beverages, 17.8% drank milk, 5.6% drank juice and 13.5% drank milk and juice. Boys consumed milk more frequently, whereas girls consumed juice more frequently and both genders consumed other beverages at similar rates. It was also noted that with age, consumption of milk greatly decreased (from 60.8% to 14.3%) and consumption of other beverages increased.
The diets of children who drank milk, juice or milk and juice were of greater nutritional value than those who drank other beverages. Milk and juice drinkers had the highest amounts of potassium of all beverage groups, and more vitamin D, A, C and calcium than milk drinkers. This group also had the highest Healthy Eating Index scores. Children who consumed milk and those who consumed juice had comparable amounts of vitamin E, sugar, energy and fibre.
This study was beneficial in determining which drinks children consume the most, but it was limited in the time period used for dietary recall. To better understand children's dietary patterns, future studies should obtain data over a longer period of time. Also, while the Healthy Eating Index does measure diet quality, it does so by determining how well individuals comply with a specific nutritional guideline. Overall milk and juice, both individually and together, are less frequently consumed by children but are found to have more nutritional value.
Written by Monica Naatey-Ahumah, BSc
Reference: Maillot, M., Rehm, C.D., Vieux, F., Rose, C.M., & Drewnowski, A. (2018). Beverage consumption patterns among 4–19 y old children in 2009–14 NHANES show that the milk and 100% juice pattern is associated with better diets. Nutrition Journal, (17)54.  https://doi.org/10.1186/s12937-018-0363-9