[ad_1]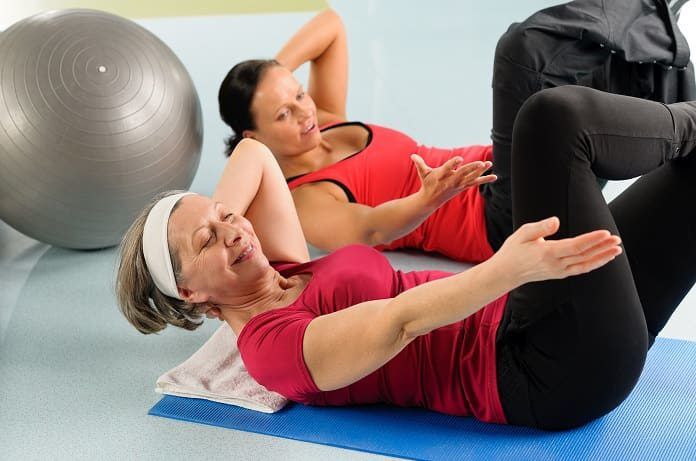 Canadian researchers evaluate the effects of moderate- and high-volume aerobic exercise programs on physical activity time in postmenopausal women.
Physical activity is a key lifestyle factor in the prevention of several diseases including diabetes, cardiovascular disease, and some forms of cancer. Studies have found that high sedentary time is a risk factor in the development of obesity, as well as other adverse health conditions. The Canadian Society for Exercise Physiology has recommended that adults should perform a minimum of 150 minutes each week of moderate to vigorous intensity aerobic exercise to obtain health benefits. However, a 2007-2009 report which objectively measured Canadians' physical activity levels found that with increasing age, total physical activity time decreased and sedentary time increased.
In women, menopause is associated with increases in weight and fat mass, which may be partly due to decreases in time spent in physical activity. McNeil and colleagues sought to add to the existing evidence on the association between exercise and diet interventions in post-menopausal women by investigating whether prescribing higher volumes of aerobic exercise, such as 300 minutes per week, would lead to a greater increase in physical activity time and improved maintenance of this increase on a long-term basis. Their results were recently published in the International Journal of Behavioural Nutrition and Physical Activity.
The Breast Cancer and Exercise Trial: BETA Study
The Breast Cancer and Exercise Trial in Alberta (BETA) looked at the effects of a year-long aerobic exercise intervention on physical and sedentary time. They specifically looked at two known biomarkers that relate to breast cancer risk in post-menopausal women. The participants were required to have no previous cancer diagnosis, be inactive (i.e. less than 90 min/week of exercise), have a body mass index (BMI) between 22 and 40 kg/m2 and be a non-smoker.
For this two-arm, two-center, randomized controlled trial, researchers randomly allocated 400 postmenopausal women between the ages of 50 and 74 years into one of two intervention groups: moderate aerobic exercise(150 min/week) or high-volume aerobic exercise (300 min/week).
For the study, the participants were required to exercise five days a week while accomplishing 65-75% heart rate reserve for either 30 (moderate) or 60 (high) minutes per session, with at least three sessions per week completed at an approved fitness facility under the supervision of certified exercise trainers. Heart rate monitors were used to ensure that exercise was completed within the determined heart rate zones and adherence was monitored using weekly exercise logs which were completed by the trainers.
The researchers collected both objective and subjective measurements of physical activity and sedentary time at four points in time:
Before the intervention
At six and twelve months (intervention end)
24-months after the intervention
They measured total, moderate-vigorous, and light intensity physical activity times, along with sedentary time using activity monitors called accelerometers, which the participants wore around their waist, except during water-based activities. The participants also completed daily activity monitor logs, recording the times when they wore the accelerometer and the activities they engaged in during "non-wear" time. Self-reported data on usual activity and sedentary time within the past year were collected using the Past Year Total Physical Activity Questionnaire (PYTPAQ) and the SIT-Q, a sedentary behaviour questionnaire.
Physical activity time increased and sedentary time decreased during the study
Results of the analyses indicate there were increases in objective measures of total, moderate-vigorous intensity aerobic exercise time and recreational physical activity time. There were decreases in sedentary time for both moderate and high aerobic exercise volumes, at the six and 12-month marks compared to the beginning of the study. However, both exercise groups demonstrated an increase in sedentary time and decreases in total, light and moderate-vigorous intensity physical activity time at the 24-month follow up.
The data on self-reported activity revealed that recreational activity at 12 months was greater in the group with high activity versus the moderate exercise group. The decreases observed in objective measures extended to self-reported total and recreational activity at 24-months, with greater reductions observed in the high versus moderate exercise group.
The authors speculate it is likely that decreased total physical activity time or increased sedentary time is expected to occur after an exercise intervention, so the outcome observed may be a function of the removal of the intervention, rather than maintenance of the intervention.
Study strengths and limitations
The study's strengths include the large sample size used and the high adherence rate in both the exercise groups, making the findings generalizable to healthy, postmenopausal women. However, a limitation of the study was that it required that a large number of analyses to be performed; this is a limitation as it could increase the chances of invalid findings. Also, all analyses had missing accelerometry data, which could introduce bias.
Future studies could evaluate the use of self-monitoring tools
Given that the intervention studied would have health-related benefits, future studies could evaluate the use of self-monitoring tools (i.e. activity trackers) geared at promoting the maintenance of increased physical activity and decreased sedentary time as well as the common barriers implicated in maintenance of the intervention outcomes.
Written by Sara Alvarado BSc, MPH
Reference: McNeil, J., Farris, M. S., Ruan, Y., Merry, H., Lynch, B., Matthews, C., Courneya, K., and Friedenreich, C. (2018). Effects of prescribed aerobic exercise volume on physical activity and sedentary time in postmenopausal women: a randomized controlled trial. The International Journal of Behavioural Nutrition and Physical Activity 15:27. https://doi.org/10.1186/s12966-018-0659-3


[ad_2]

Source link