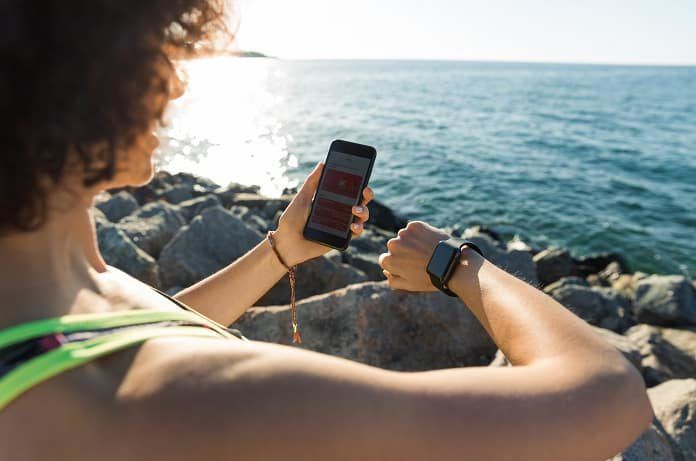 Our Reader Score
[Total: 0 Average: 0]
A recent study looked at the efficacy of using activity tracker apps and wearables to predict symptoms of common mental health disorders.
As we approach the latter part of the decade, there have been numerous technological innovations being introduced on a daily basis. Looking back just 10 years ago, we can begin to appreciate the advancement of smartphone technology. The sophisticated capabilities of cellphones these days would indeed have been regarded as astonishing, two or three decades ago.
The number of people owning a cellphone is also growing. It is now predicted that around 62% of the world owns one, and by 2019, the figure will increase to 67%. Smartphones are becoming more affordable and more common. Yet, their potential in clinical terms is yet to be untapped.
Can activity tracker apps act as a tool in determining symptoms?
Since cellphones are so closely related to our lives they may act as an essential tool in determining symptoms and predicting pathologies of disease for mental health treatment. Activity tracker apps, such as Moves or MyFitnessPal, can provide essential data about a person's activity level, possibly helping their healthcare practitioners to assess for arising pathology or distress. Wearables, such as Fitbit, can similarly provide real-time data about a patient's daily activity.
To test the efficacy of this concept, an Australian team of researchers surveyed 53 young adults between the ages of 18 and 25 and collected data about their activity from several different activity tracker apps and wearables. As published in the Journal of Affective Disorders, the researchers determined that providing the group with the ability to choose which app or device does not hinder the results. In fact, allowing this choice creates a more realistic understanding of the data. The researchers compared this with the present method, whereby a device is provided to do similar activity tracking. This results in extremely high costs as well as an overall inconvenience from the patient's perspective.
Possible connections between less activity and increase in anxiety symptoms
Besides determining the viability of this method, the researchers have come to several important conclusions. First, while all participants have reported medium levels of psychopathology, specifically depression, anxiety, and stress, participants who used the activity tracker apps for longer than 45 days showed a correlation between increased anxiety and randomness of activity. Thus, it can be posited that there is some connection between less regular activity and an increase in anxiety symptoms.
Wearables resulted in more daily activity than activity tracker apps
Further, the researchers determined that wearables resulted in significantly more daily activity than activity tracker apps. This may be a result of the greater convenience of wearables over apps. There is also a possibility that different intensities are measured differently between apps. Vigorous exercise may not be registered the same as low-intensity exercise. As the study did not look at such parameters, there is no way of telling whether there is a strong connection between wearable and activity, despite these data.
Study does not find a causal relationship but indicates smartphones and wearables may be useful
As the cost of common psychopathologies, such as the ones mentioned above, increases to more than $150 billion globally, there is a strong need to better understand, predict, and treat these conditions. While this study lacks the ability to show a causal relationship, it definitely shows that smartphones and wearables can be utilized for these purposes. Clinicians should consider employing treatment strategies that involve activity tracking in real-time.
Further research is still called for, especially with regards to finding stronger correlations or causational patterns between tracked activity and psychopathology. The authors note that randomized control trials should be employed, and larger sample sizes need to be studied.
The use of smartphone apps and wearables allows for studying large samples of individuals. Nonetheless, even in a more individualistic perspective, an individual's activity levels can be studied in relation to their own experience, allowing for a better understanding of one's own pathology. This will both increase the effectiveness of therapy sessions, as well as improve the individual's self-management abilities.
Written by Maor Bernshtein
Reference: Knight, Alissa, and Niranjan Bidargaddi. "Commonly Available Activity Tracker Apps and Wearables as a Mental Health Outcome Indicator: A Prospective Observational Cohort Study among Young Adults with Psychological Distress." Journal of Affective Disorders, vol. 236, 2018, pp. 31–36., doi:10.1016/j.jad.2018.04.099.